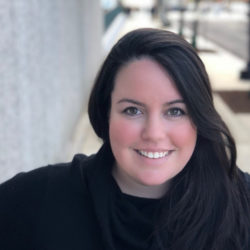 WASHINGTON, DC, May 6, 2019 – OneRail Coalition Director Anne Canby today announced that Devon Barnhart will be joining the OneRail team on May 13 as Deputy Director for the coalition. Barnhart, a lawyer and civil engineer focused on transportation policy, has a deep understanding of all aspects of freight and passenger rail. She most recently served as the subcommittee staff director for the Transportation and Safety Subcommittee of the Senate Commerce Committee.
"Devon's considerable knowledge of rail and transportation issues, as well as her policy expertise, make her a great fit for the OneRail Coalition," said Canby. "She will bring new ideas on promoting the benefits and value that make rail the logical transportation mode for the 21st century."
"Rail is vital for our economy, a cleaner environment and a safer transportation system," said Barnhart. "I have had the privilege of working on these issues in the House and Senate for more than 10 years and with Members of Congress, who championed the industry. It's an exciting time for infrastructure issues and the rail industry, and I'm eager to use my experience to help promote the important activities and advancements in the U.S. freight and passenger rail sectors."
Barnhart has served with the Senate Commerce Committee as professional staff since 2013, and earlier as legislative assistant and counsel. She was previously director of government affairs and outreach for Smart Growth America, and before that was a legislative assistant in the Senate. Her career also includes working as legislative counsel for a member of the House Transportation and Infrastructure Committee and internships at law firms and with the Pennsylvania Department of Transportation (PennDOT). She also held civil engineering positions at PennDOT and the Pennsylvania Department of Environmental Protection.
A Pennsylvania native, Barnhart received her J.D., Law from Dickinson Law School and has a B.S. in Civil Engineering from Bucknell University.
About OneRail
OneRail is a diverse group of stakeholders who have come together to educate America about the benefits of a strong freight and passenger rail system. Learn more at www.onerail.org; follow OneRail on Facebook and Twitter, and join our LinkedIn group.
###