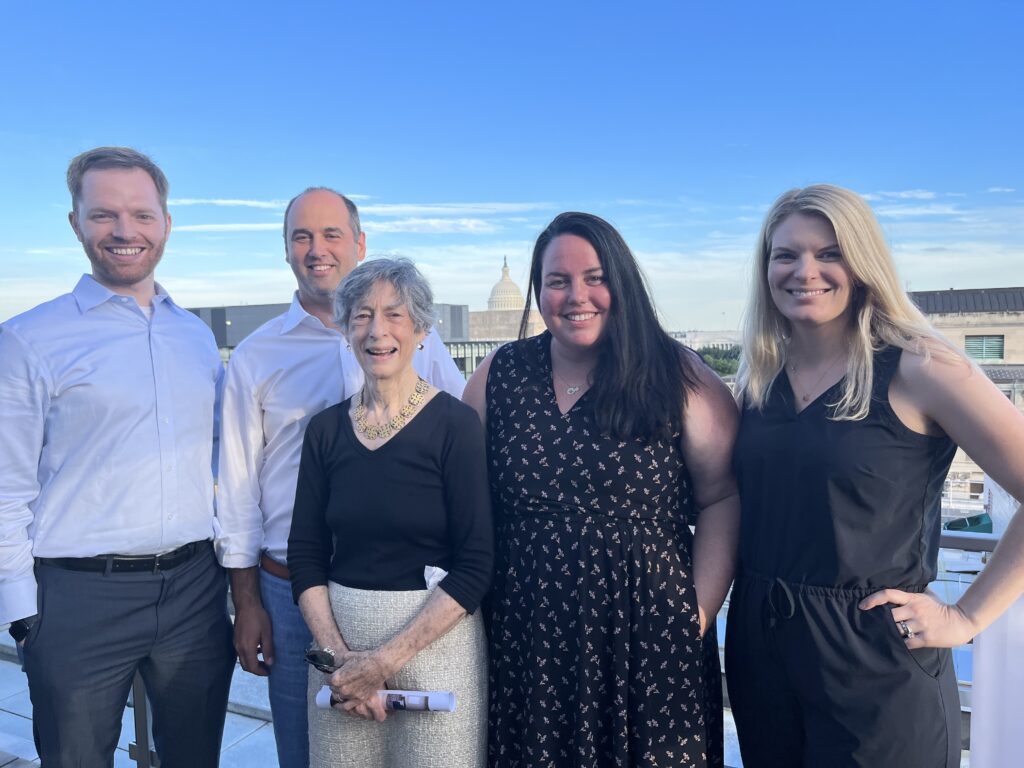 WASHINGTON, DC, June 28, 2022 – OneRail Coalition Director Devon Barnhart announced that Michael Davisson, Professional Staff for the U.S. Senate Commerce Committee, and Chuck Baker, President of the American Short Line and Regional Railroad Association (ASLRRA), are the winners of the newly established Canby Awards – named for the organization's former director – in recognition of their strong support for advancing rail in the United States.  
"The OneRail Coalition is pleased to present these inaugural Canby Awards to Michael Davisson and Chuck Baker, in recognition of their dedication to preserving and improving the U.S. rail network," said Barnhart. "These awards, which will be presented annually, were inspired by Anne's commitment and perseverance for finding common ground to advance and strengthen rail in the United States. This year's recipients exemplify the passion and optimism that Anne brought to her work with OneRail. As OneRail continues to grow, we are driven by Anne's vision to work together in support of our rail network, which is vital to supporting the economy, meeting our climate change goals and ensuring the efficient movement of people and goods."
OneRail honors the following recipients:
Congressional Staff Award – As a professional staff member on the Commerce Committee for Chair Maria Cantwell (D-WA), Michael Davisson helped to draft the rail title that was incorporated in the Bipartisan Infrastructure Law. His knowledge of rail policy, ability to navigate varied interests and strong work ethic were a key factor in ensuring critical provisions and historic rail funding were included in the law.
OneRail Member Award – Chuck Baker serves as both President of ASLRRA and Chair of the OneRail Coalition. He has served OneRail in various capacities for more than a decade and helped many of the Coalition's proposals and priorities to become law. Chuck is an industry leader and champion for rail issues.
Said Canby, "I am grateful to the OneRail Coalition for creating these exciting awards. Now more than ever, rail is a critical part of the solution to our nation's key infrastructure, economic and climate challenges."
About Anne Canby
Anne Canby helped found the OneRail Coalition in 2009 as a nonprofit organization to educate the public and policymakers about the positive attributes rail provides to the U.S. transportation network and economy. Canby served as the Coalition's Executive Director for more than a decade until she stepped down in 2021.
Canby dedicated her life's work to transportation and promoting rail at all levels of government, serving as the New Jersey Commissioner of Transportation, Delaware's Secretary of Transportation, and Deputy Assistant Secretary of the U.S. Department of Transportation. Through OneRail, Canby brought together a wide variety of stakeholders in support of a robust U.S. freight and passenger industry. Over the years she continued to expand and strengthen the coalition to include Class I, II, and III freight railroads, Amtrak, rail labor unions, commuter rail, rail suppliers, engineering companies and rail passengers. Her work raised awareness of the many economic, environmental, and safety benefits of freight and passenger rail. The OneRail Coalition continues her legacy of educating and advocating for policies that support the rail industry and the good-paying jobs it provides.
About OneRail
OneRail is a diverse group of stakeholders who have come together to educate America about the benefits of a strong freight and passenger rail system. Learn more at www.onerail.org; follow OneRail on Facebook, Twitter, and LinkedIn.
###